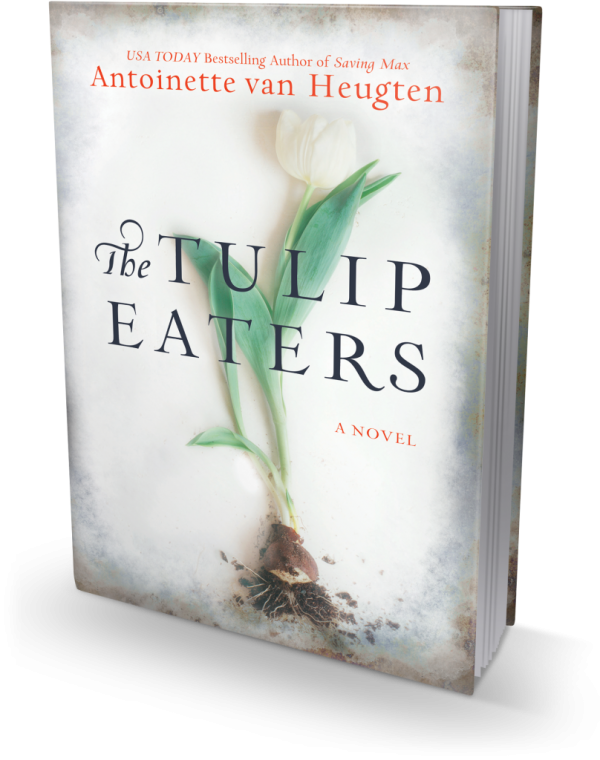 So it is. On Tuesday, October 29, my second novel, THE TULIP EATERS, will make its way into the world. How does it feel? Crazy. Fantastic. Incredible. All true.When I wrote SAVING MAX and it wasn't published for ten years (yes, you should have seen my face then, when my neck didn't resemble a frightened Thanksgiving turkey), I wrote this second novel because I didn't know what else to do. When you write, you write. That's all.
But then SAVING MAX came out in 2010 and sold. And sold very well. All of a sudden, the reality of being a published author with a bestseller crashes down on you: radio interviews, TV spots, reviews, book signings. It was so heady and beyond my wildest expectations. Looking back, though, there was one defining moment.
When SAVING MAX showed up in my mailbox and I ripped open the box of books and actually held one in my hand – that was it! Nothing has ever approached that moment as a writer for me. I was little Nettie van Heugten in the library at the card catalog, flipping through the white cards, mesmerized by all those amazing people who were authors. Eight years old. And all I wanted in the whole, wide world was to have my name on one of those books on the shelves. Then I could die happy. And I haven't changed my mind. Focusing only on a personal dream (not one associated with my three boys, which is hard to do!) this was and is it.
Buoyed by the fact that people actually bought, read and told me that they loved SAVING MAX, I drug out that manuscript I wrote while trying to convince myself that there was some reason to keep writing. It is a bittersweet feeling as I anticipate seeing THE TULIP EATERS on the shelves. This novel brings back my parents, both gone now. My mother died in 1978 after a long battle with cancer, the year I graduated from college. My father secluded himself even more after her death, passing away in 1990. I was twenty-two when my mother died. I set upon a mission – to learn everything about the Dutch underground I could. I went to Amsterdam. Read anything and everything. In this way, I tried to live her past, to keep her connected to me, so that she wouldn't really be – gone. The novel is a thriller and fiction, but the historical facts are the building blocks that comprised my parents' lives, that made them who they were. When I pulled the manuscript out of the closet and rewove the story into what it is today, I reread their love letters to one another, the research I did at the Dutch War Institute thirty years ago – my handwriting loopy and immature. I feel the loss, once again.
But on Tuesday, I will raise a glass of genever to my parents, grateful as always for this life they gave me, for the love of reading and learning that has shaped that life, for their generosity of heart and profound love that is never-ending.